You've seen it on the news, and you've read about it in magazines: indie record label Hearts & Plugs is dominating the Holy City, and on Wednesday, April 15, indie-pop darling Grace Joyner and ambient singer-songwriter Hermit's Victory finished out the Hearts & Plugs Redux Residency as the fifth and final show in the series. Listeners were introduced to Hermit's Victory's smooth electronic sound as part of his self-titled LP release, and Grace Joyner closed out the night with a passionate performance consisting of original songs and covers (most notably Sam Smith's "Stay With Me"). Although the end of the residency proves bittersweet, the event indubitably put Charleston on the map for both established and up-and-coming musicians as a place to thrive.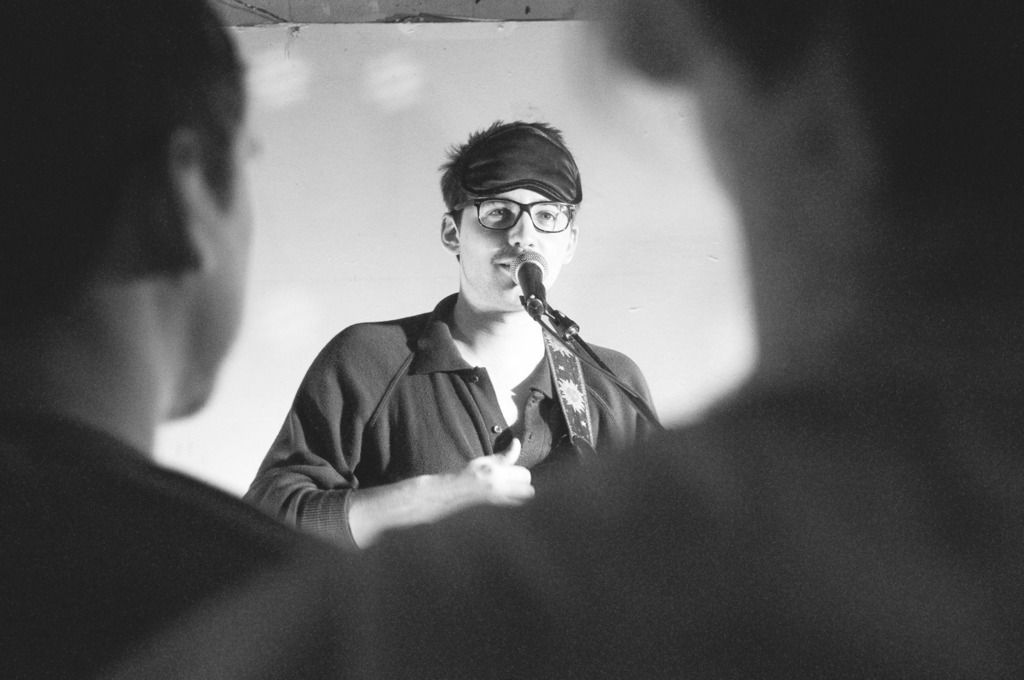 Tyler Bertges of Hermit's Victory, photographed by Mishka Pretlow
 
"Tyler really knows how to make some magic in the bedroom," jokes Dan McCurry, founder of Hearts & Plugs, referring of course to Hermit's Victory frontman Tyler Bertges and the musical recordings done in his home. Hermit's Victory is the brainchild of Tyler Bertges, a Fort Mill native who has been playing music since high school. His music career began with a stint in Through Porchlight, having opened for bands Brave Baby and Sequoyah Prep School, before flourishing as a soloist. The debut Hermit's Victory LP was released physically and digitally on April 7 and marks the twelfth official release on Hearts & Plugs. The album was recorded partly in Tyler's bedroom, with the majority finished at longtime friend Wolfgang Zimmerman's studio, The Space. With special contributors Jenna Desmond, Adam Eddy, Owen Eddy, Johnny Delaware, Michael Snyder, and Brian DiMaggio (among others), Tyler has created an ethereal sound reminiscient of acts like Devendra Banhart and M. Ward. Bertges has an impeccable attention to detail, layering multi-faceted melodies with complex, intrinsic lyrics as evidenced in the wistfully heartfelt "Mantras" and individualistic "Night Owl."  "[Tyler] is this crazed mad scientist of super-hip neo-soul singer-songwriter bedroom jams," Dan exclaims.  "It's probably the weirdest and yet most beautiful album we've put out."
 


Grace Joyner, c/o Hearts & Plugs
 
Full disclosure: I've been not-so-secretly girl-crushing on Grace since her starting days as a harmony singer with Charleston bands Brave Baby and Elim Bolt. In the fall of 2013, Grace approached local recording artist Wolfgang Zimmerman with a few intimate songs she had written after exiting a widely public and tumultuous relationship; this batch of songs, including singles "Be Good" and "Young Thing," eventually became her debut EP, Young Fools, released through Hearts & Plugs in May 2014. Joyner's unbridled honesty pours through every line, discussing vulnerable topics like infidelity ("Say that you love me so, but you leave at night/I don't want to fight") and abandonment ("It must be the for the best that you threw me away/knowing my habits, I'd just find a reason to stay"), exhibited through striking vocals set to a backdrop of velvety indie-pop. Grace offers a unique perspective in the Charleston music scene by acknowledging her faults while conversely showing pride in her epiphany and subsequent growth, showing that strong females come in many different forms. "Somewhere in the middle of learning that getting hurt does not make you weak, I started the healing process—I started writing music," Joyner says. "I am so thankful to have the support of Hearts & Plugs. The showcase was an amazing opportunity to reach out to the local community and, in my opinion, it was a huge success. Dan McCurry has done so much for the music scene here, and I can't wait to see what lies ahead for everyone." Joyner is currently working with band members Camille Rhoden (keys/vocals), Dan McCurry (guitar), and Nick Jenkins (percussion/synth) on releasing a full-length album, with plans for a music video later this year.
 
Although Charlestonians are happy that Thursdays will be hangover-free (for the most part), fans are eager to see what H+P has planned for the future. Dan loosely discussed some tentative releases from Elim Bolt and Gold Light, as well as a few "surprises" thrown in. "We will be hosting an after-party for the Brave Baby Electric Friends release on Saturday, May 9," Dan elaborates. "There's also a 95 percent chance that we are doing another Summer Shindig this summer. Last summer was super rad, and we're working on details right now—basically, we just have to coordinate free ice cream because that's what it's all about, am I right?!"  #icecreamisthenewfroyo