Holy City Brewing
BY: Instant Grit
COUNTDOWN TO SUMMER! Your Grit guide to Charleston's golden season MONDAY: Summertime Dos & Don'ts TUESDAY: The Best of Poolside WEDNESDAY: Get Your Grill On THURSDAY:...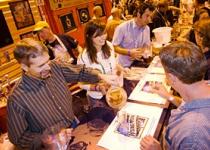 BY: Pete Preston
I was reading Issue 70 of the Beer Advocate recently and had one of those "Ah, yeah! I should do that" moments. The editors, the Alström Brothers, wrote a quick piece about the Great American Beer...
BY: Pete Preston
Forget Palmetto. They're boring (but perhaps rebranding? More on that in a second...). Let's get to know Holy City, Coast, and Westbrook breweries—the new(ish) kids on the block that are cranking out...
BY: Instant Grit
Check out our photo gallery of last week's Gritty Awards, held on Upper King at the Rebekah Jacob Gallery (502 King Street). Click once on the picture to launch lightbox and view the captions.
BY: Rory Gruler