Holly Herrick
BY: Holly Herrick
When it comes to killing (unless you count mosquitoes) I'm a wuss. I can't even stamp out a palmetto bug (cockroach). Once, when I was 12, while retrieving the mail from our mailbox in Florida, a...
BY: Holly Herrick
Hardly anything I can think of trumps the utterly simple deliciousness of a well prepared French onion soup. Similarly, I can think of nothing utterly worse than a thin, flavorless ill-prepared...
BY: Holly Herrick
I've been having fun in my kitchen lately experimenting with French soups for my upcoming book on the subject. One of the things that makes soup French (aside from being delicious) is attention to...
BY: Renae Brabham
I am telling you that I have truly enjoyed the Grit world this year. I wish all of Charleston knew what they are missing out on by not visiting daily. It is an amazing storefront window into the...
BY: Holly Herrick
This week brought many a standout—from newcomer Cullen's pot-stirring recap of the ref debacle, to Jane's schooling post on why we should strive for excellence and pass on perfection. But when the...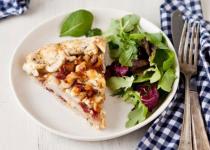 BY: Holly Herrick
Now that the crisp, cool air of fall and winter is finally upon the Lowcountry, appetites build for satisfying, belly-warming fare. I lit my first official fireplace blaze of the season last night,...