Holly Herrick
BY: Holly Herrick
Making bisque the right way isn't for the faint of heart, but the results are well worth the work, and it can be in stages. This is about the most beautiful crab bisque you will ever savor.
BY: Holly Herrick
Though layered with complex flavors, French onion soup couldn't be more simple—or delicious. As it can be made ahead and assembled last minute, it's a snap for holiday entertaining (i.e. New Year's)..
BY: Holly Herrick
Here's a draft of a new recipe for my upcoming cookbook, "The French Cook: Soups and Stews," out fall 2014. The brilliant red, white, and green hues of this soup make it a perfect Christmas starter
BY: Renae Brabham
A near year-end review of my go-to blog site (Editor's note: We SWEAR we didn't bribe Renae to write this)
BY: Holly Herrick
Say it sista! Holly's straight-talking fact vs. fiction breakdown of the writing profession is one we—and all Charleston creatives—can applaud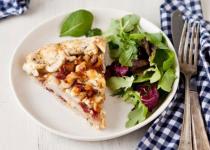 BY: Holly Herrick
Cooler temperatures bring the desire for soulful, satisfying fare. Try this free-form Beefy Pear, Roquefort, and Walnut Tart, pungent with black pepper and bresaola for hungry winter bellies.