Halsey Institute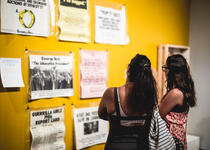 BY: Mac Kilduff
Searching The Halsey Institute's Bizarre Bazaar, the gallery's yard sale of thirty years of exhibition materials, for the perfectly odd find.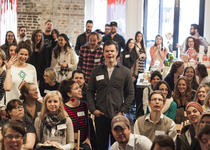 BY: Jess Spence
How you do get a bunch of young creatives out of bed before 8:00 a.m.? Good coffee and Creative Mornings.
BY: Stephanie Hunt
The Halsey's 30th Anniversary show opens tonight, and it's better than all the hype. Shepard Fairey delivers power, glory, and plenty of suberversive celebrity, thanks to the Halsey's real superstar.
BY: Stephanie Hunt
What to do on (another!) soggy day? Head to the Halsey for Spoleto's last splash, where hundreds of books, mags, & catalogues have been sculpted, sawed, stacked, whacked, carved, glued... transformed
BY: Stephanie Hunt
And unless you live in the Dark Ages, you are too. Men, women, girls, bystanders... let's gather this evening and do what feminists do best—celebrate each other! See you TONIGHT, 5:30 at the Halsey
BY: Stephanie Hunt
If you've got a thing for words, if you're hot for font and a fool for the mesmerizing voluptuousness of phrases writ large and draped about, get thee to the Halsey for Leslie Dill's Poetic Visions
BY: Rebekah Jacob
"Contemporary art breathes life into a historic home; it keeps things unpredictable and interesting..." A modern-art Q&A with collectors Kristin and Stan Stevens
BY: Rebekah Jacob
"Drawing a labyrinth with salt is like following a trace of my memory..." Motoi Yamanoto. Charleston is the first stop of Motoi's traveling exhibit, the Halsey his introductory space...