Food & Recipes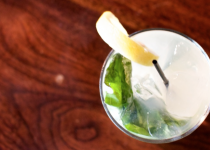 BY: Ann Kaufman
Now that spring is firmly rooted here in Charleston and we're already getting a glimpse of summer, I feel like it's time to kick back, relax and enjoy a sunny cocktail on a deck...
BY: Holly Herrick
When it comes to killing (unless you count mosquitoes) I'm a wuss. I can't even stamp out a palmetto bug (cockroach). Once, when I was 12, while retrieving the mail from our mailbox in Florida, a...
BY: Holly Herrick
The brutal winter weather of the past few weeks has left me with a near constant craving for soups and also long-braised stews. Combine this with the near constant recipe testing for my next cookbook...
BY: Holly Herrick
Hardly anything I can think of trumps the utterly simple deliciousness of a well prepared French onion soup. Similarly, I can think of nothing utterly worse than a thin, flavorless ill-prepared...
BY: Natalie Mason
After not really watching what I ate for the past nine months, I am ready to get back on track and lose the last of this baby weight. I am not on a full-blown diet—that will come after the...
BY: Holly Herrick
I've been having fun in my kitchen lately experimenting with French soups for my upcoming book on the subject. One of the things that makes soup French (aside from being delicious) is attention to...
BY: Rebeccah Connelly
Four Hens & Rooster Last year, I sort of wrote a Thanksgiving post on my personal blog about gratitude. More specifically, it was about the things I am NOT thankful for, some of which...
BY: Holly Herrick
Thanksgiving is all about tradition, but let's face it, not everyone loves apple, pumpkin, or pecan pie, and not everyone loves to bake or get involved with making or rolling out pie pastry.That's...
BY: Natalie Mason
Get ready to be introduced to your new favorite taco recipe. These babies are incredible. The meat slow cooks all day so it is fall apart tender and filled with so many fabulous flavors...
BY: Renae Brabham
I was going through my recipe file earlier for Thanksgiving dishes... Let's see—there's the computer file, the Pinterest file, and torn-out pages from magazines in various kitchen drawers. But...
BY: Holly Herrick
Chow.com Last week, a full two weeks before Thanksgiving was even scheduled to arrive, I got an intense craving for turkey. Not the deli variety and not the roasted kind you can buy. I needed...
BY: Instant Grit
The Blog of the Week is... Say Hello to Soup Season by Mellissa Sevigny. Because wow. Ten (count 'em, 10) insanely delicious looking soup right as the chill sets in? With names like Brazilian Shrimp...
BY: Natalie Mason
Today I am coming at you with another awesome vegetarian meal. We are on week two of having meatless Mondays and I am loving it. The hubs? Not so much. I really liked this pasta—it was...
BY: Mellissa Sevigny
Since we've spent the last couple of weeks in CT enjoying the cooler weather, I've really gotten excited about making soups again. I haven't been home to experiment with new recipes yet, but I...
BY: Holly Herrick
WIlliamsburgcc.com I've had the happy occasion to spend a fair amount of time in Williamsburg, Virginia in recent months for book signings and to visit a very special someone....
BY: Claire O'Bryan
When Jenan and Bryant McClain opened Puree Organic Café in early 2012, they knew they weren't out to make a fortune. In fact, they knew the opposite would likely be true. But after working in...
BY: Mellissa Sevigny
I struggled with what to call this dish, and finally settled on Cuban Pot Roast. Naturally low carb, it's in the style of Ropa Vieja, which is a Cuban dish usually made of skirt or flank...
BY: Hunter Gardner
Zac Brown has been getting his hands dirty in a little bit of everything these days, from Grammy nominations with his band to his own barbeque sauce, partnerships with Landshark, Jack Daniels and...
BY: Natalie Mason
I love kale, in a major way. I add it in my juices, sauté it for lunch, and love to make salads with it. This was a recipe I have wanted to try for a while. It is off the charts amazing. I think the...
BY: Instant Grit
It's October. We got to wear light jackets to work today. And the sun hasn't peeked through those clouds all morning. All signs point to pumpkin soup, and the recipe below couldn't...