Food & Recipes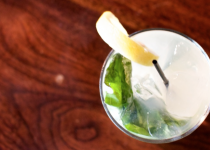 BY: Ann Kaufman
Ever wanted to make your favorite drink, from your favorite bar while you were at home? Well here are step by step instructions for one of Charleston's best concoctions.
BY: Holly Herrick
Making bisque the right way isn't for the faint of heart, but the results are well worth the work, and it can be in stages. This is about the most beautiful crab bisque you will ever savor.
BY: Holly Herrick
With temps setting record lows lately, all I've been craving are soups and stews. Here's a delicious, easy-to-make lentil soup with bacon—a sneak-peek recipe from my upcoming cookbook!
BY: Holly Herrick
Though layered with complex flavors, French onion soup couldn't be more simple—or delicious. As it can be made ahead and assembled last minute, it's a snap for holiday entertaining (i.e. New Year's)..
BY: Natalie Mason
Carrots and cucumber, sprouts and avocado—this baby's got it all. Here's what else you need to whip up the tastiest good-for-you sandwich out there
BY: Holly Herrick
Here's a draft of a new recipe for my upcoming cookbook, "The French Cook: Soups and Stews," out fall 2014. The brilliant red, white, and green hues of this soup make it a perfect Christmas starter
BY: Rebeccah Connelly
This may not be the kind of list you recite around a crowded Thanksgiving table, but that doesn't mean I can't be grateful I have them...
BY: Holly Herrick
Ditch the traditional pie this Thanksgiving and serve up a decadent—and oh so easy—tart. With peanut butter, marshmallow fluff, whipped cream, and chocolate, it's a Reese's lover's dream come true
BY: Natalie Mason
Stuffed with all-day-long braised beef, homemade pickled onions, Mexican crema, and jalapeños, these tacos are a must for your weekend eats menu
BY: Renae Brabham
The season of feasts is drawing near, reminding me of my kids', husband's, and my own food-related quirks. Also? Here's why you should bless the cook—or cooks—behind your Thanksgiving meal this year
BY: Holly Herrick
Editors' Note: if this post doesn't give you a hankering for turkey just like your mama makes, we don't know what will? Meantime, cue the run-up to warm, aromatic kitchens and crowded family tables
BY: Instant Grit
Plus! This one video will make you want to put your phone in the other room and leave it there... (well, after you text everyone to tell them that's what you're doing). Watch it and be frightened
BY: Natalie Mason
Packed with fresh veggies—like broccoli, bell pepper, mushrooms, Brussels sprouts, and sweet potato—and loaded with Gouda, this vegetarian pasta dish is the bomb dot com
BY: Mellissa Sevigny
It's November and finally chilly... So soup season's official! Here are my 10 faves—including the likes of Jalapeño Popper, Pumpkin Chipotle, and Spinach & Artichoke Dip soups. Bonus? They're low carb
BY: Holly Herrick
Tourist food = bland and boring? Not so at these all-star restaurants in Williamsburg, Virginia. Foodies: if you've been having the itch to travel, here's where you should go and what you should order
BY: Claire O'Bryan
In a letter to customers, the eat-healthy Mount P hub opened up about its struggle for profitability amid sky-high food costs (aka, the cost of keepin' it real). Here's what's next for the cult fave..
BY: Mellissa Sevigny
Easy to make (just throw it in a crock pot), easy to serve (either in lettuce wraps or a soup bowl), full of flavor, and low in carbs, this pot roast is a keeper. Recipe here...
BY: Hunter Gardner
Day 2, I arrived hungry, and that was the plan: the food stand I started with, what I found in the VIP tent, outta-town ice cream, my interview with SG Chef Rusty & beer pro Gary Valentine, & more!
BY: Natalie Mason
The perfect complement to kale? Crispy garbanzo beans, apparently. Here's the recipe for this super simple, super healthy salad that's off-the-charts amazing
BY: Instant Grit
Cool weather + wind gusts + another chance of showers = time for some soup. Here's a fantastic Thai spiced pumpkin variety, PLUS a recipe for parsnip fries (cause who doesn't like fries?!)