Ayoka Lucas
BY: Rory Johnson
Follow my blog with Bloglovin
BY: Ayoka Lucas
Day 3: Baker Motor Company Charleston Fashion Week 10:30 a.m. I am now waking up later and later! Oh sleep... who are you? Time to blog in bed!!! Which I love because it gives me a reason to...
BY: Desmond Kinlaw
This past Saturday night, I was invited to celebrate the Southeast's newest class of couture talent heading into Charleston Fashion Week 2013. This weekend's Emerging Designer Party, held at the old...
BY: Rory Johnson
BY: Rory Johnson
BY: Rory Johnson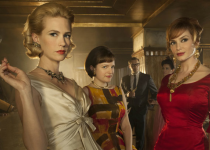 BY: Angelica Diaz
No, folks, we are not talking about angry males, average mixed drinks, or your sister's old hand-me-downs. We are talking about the AMC award-winning drama Mad Men, expert-crafted...
BY: Instant Grit
Despite the sport's loud jumpsuits and occasional mullet, Nascar and the world of fashion aren't as disconnected as you may (well, probably) think. Along with Jeff Gordon and other well-known...